THE ART HUTS AT SARGAALAYA HOUSE SOME OF THE MOST TALENTED CRAFTSMEN WITH THEIR PRICELESS MAGNUM OPUS. VISIT THE STATE'S MOST ADMIRED CRAFT STATION AND EXPERIENCE TRADITIONS THAT LAST FOR A LIFETIME.
Kerala, is one of the most sought-after places in pottery making. Artisans here are experts in moulding pottery out of locally available clay. The variety of pottery available here includes utensils like pots, pitcher, other utilities and handicrafts.
Clay Carving Sculpture is three-dimensional artwork created by shaping or combining the clay. There are many carving tools available in the market. Mostly Indian people like to carve and make a sculpture of God, Goddess like Krishna, Ganapati, faces etc. It has become popular because the process can create impressive sculptures. These sculptures are made of mixture of clay and Plaster of Paris by trained craftsmen.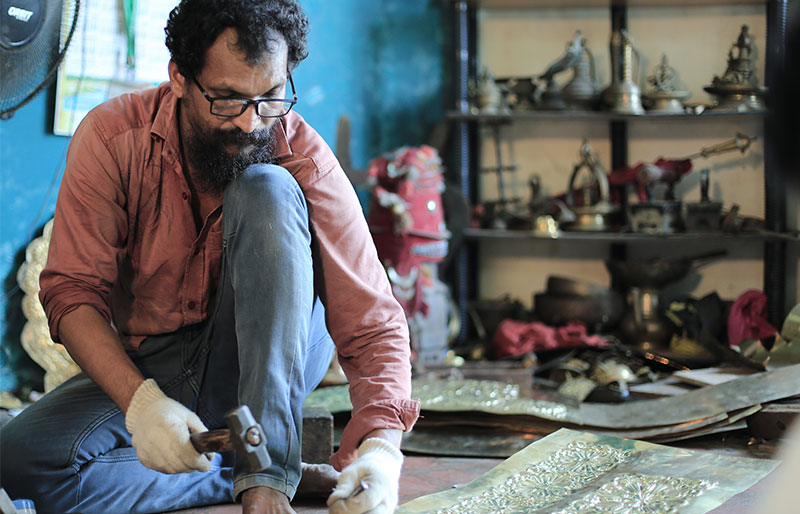 Metal embossing is all about creating interest through texture, dimension, and colour or patina. Sheet metal embossing is a stamping process for producing raised or sunken designs or relief in sheet metal. This process can be made by means of matched male and female roller dies, or by passing sheet or a strip of metal between rolls of the desired pattern. It is often combined with Foil Stamping to create a shiny, 3 Dimensional effect.
The Indian art forms paintings acquired rich and prominent place since ancient times, history reveals like it started on caves, palace, churches, temples and other cultural homes. After Rajasthan; Kerala Murals has possessed traditional and cultural value on mural paintings mainly depicts the period of 15 – 19th century. The natural five colours (panchavarna) and drawings are the key part in the traditional Kerala mural painting works. Some of the major works are executed at Padmanabhapuram palace, Krishnapuram palace, Mattanchery palace, Pundareekapuram temple and Kottayam small church etc. and this places are now considered as archaeological monuments too.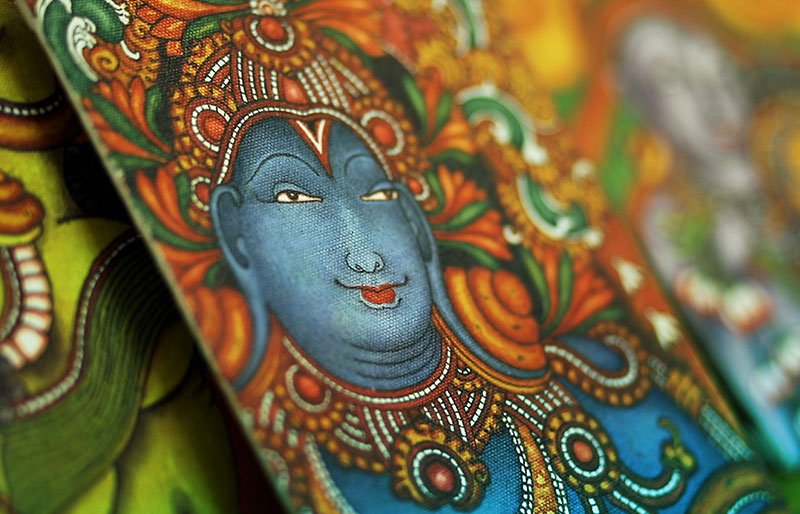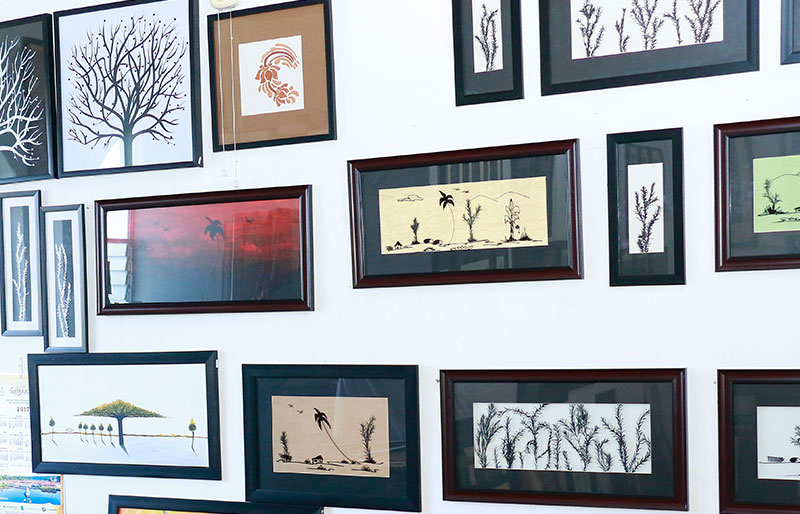 An herbarium is a place where collections of dried plant specimens are pressed and plant materials are preserved and stored for research purposes by botanists and scientists.
Present day herbaria include more than just herbarium specimens. Records of reference material can include drawings, paintings, prints, slides and digital photographs.
The project
These paintings explore the idea of an herbarium, types of taxonomy and the ultimate aesthetic dimensions and designs of such collections. They attempt to create new taxonomies based on the cultural and historical dimensions of the plants, mixing autochthonous varieties with exotic ones.
Pooram in Kerala refers to temple festivals that represent the heart and soul of the state. Entire regions come to life as the streets are decked up to celebrate these events. Caparisoned elephants take to the streets and the roars of the approving crowds can be heard far and wide. Many a folk art performance is held as the area around the temple turns into a virtual carnival. The colours on display are mesmerizing and people religiously await these Pooram festivals annually. The Thrissur Pooram is considered to be the Mother of all Poorams.
One of the main attractions during a pooram are elephants and their ornaments. 'Nettipattam', 'Aalavattam' and 'Venchamaram' are few such ornaments used to beautify a mighty elephant. These ornaments are handcrafted with precision. These days pooram craft products are used for a variety of decoration purposes including interior designing.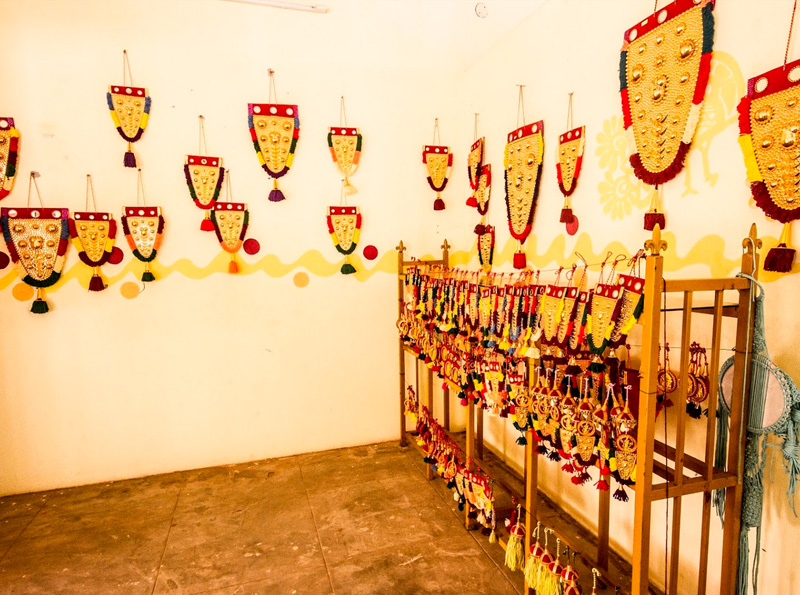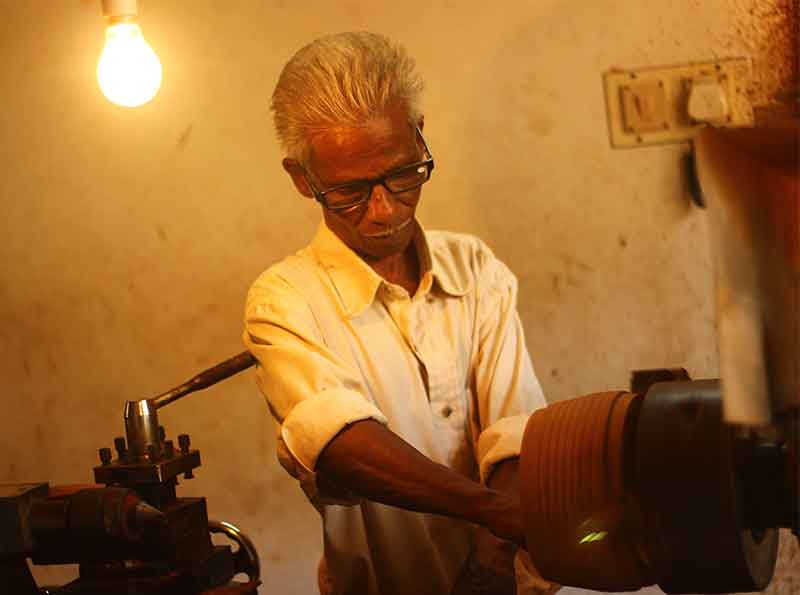 "Nirapara" – the traditional measuring unit used in Kerala households till the advent of modern alternatives is now a much sought-after item for interior decoration. Earlier times, it was made of the wood of Jackfruit tree only. Nirapara filled with un-husked rice, is the auspicious sign of prosperity and is an inevitable part of festivals and celebrations of Kerala. Miniatures of a traditional measuring vessels-Nirapara, Edangazhi & Nazhi are now made using wood of Jackfruit tree & Coconut Stem.
Sculpture is three-dimensional artwork created by shaping or combining the clay. There are many carving tools available in the market. Mostly Indian people like to carve and make a sculpture of God, Goddess like Krishna, Ganapati, faces etc. It has become popular because the process can create impressive sculptures. These sculptures are made of mixture of clay and Plaster of Paris by trained craftsmen.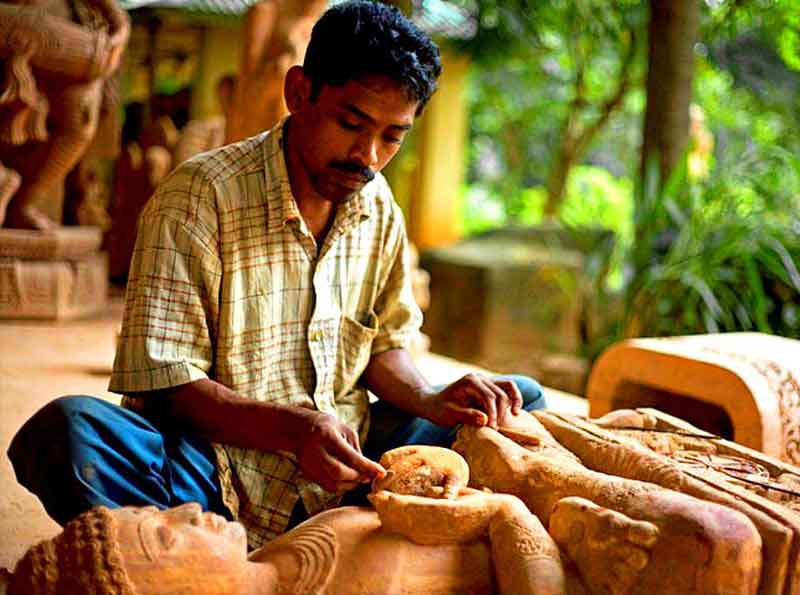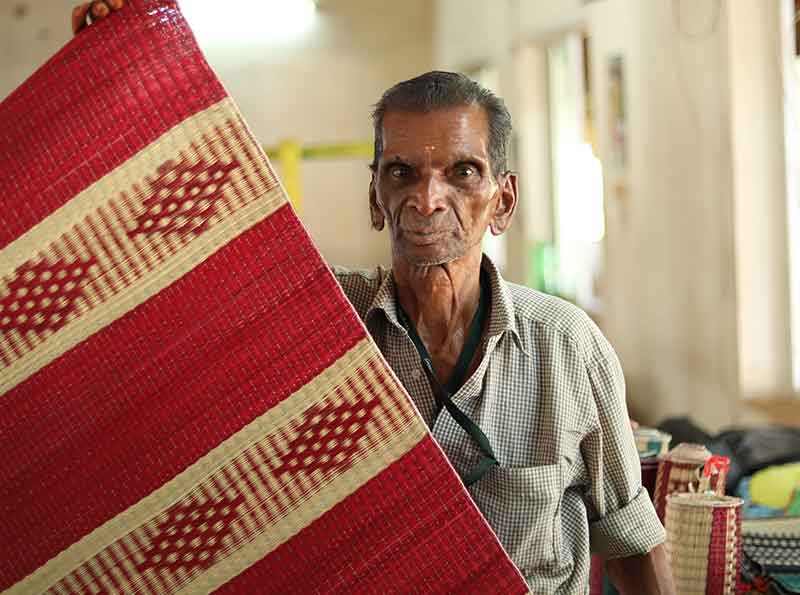 Sedge grass, known as kora, grows in profusion in Kerala's marshy regions and along its banks and rivers and is collected by the Kurava, the community who have traditionally woven mats of this material on a low beam floor loom in the basket weave technique. These mats serve as floor coverings, mattresses and prayer mats and are made accordingly in a range of sizes. For instance, long narrow mats known as the Panthi are used to seat guests during meals on the floor. The mats that are currently being produced have begun to sport motifs such as elephants, palm trees, the Taj Mahal, lamps and the lotus. The weavers have also begun to create a wider range of products that includes table mats, runners and bags of various sizes.
Coconut is well-known as a multipurpose plant and has been utilized and developed in a manner that yields a high economic value. Instead of being thrown away or used as firewood for cooking dry coconut shells are carved in different designs, varnished and colored. Coconut shell craftwork involves tremendous creativity and is used for the creation of utility and decorative items by artisans who use their creativity to create items from utility to artistic and decorative. The items produced include Table lamps, flowerpots, table clocks, different idols and decorative items.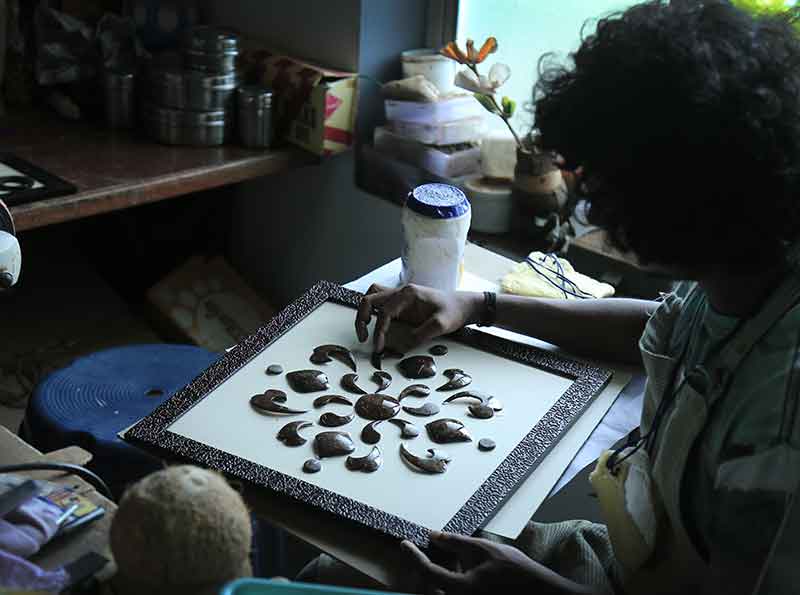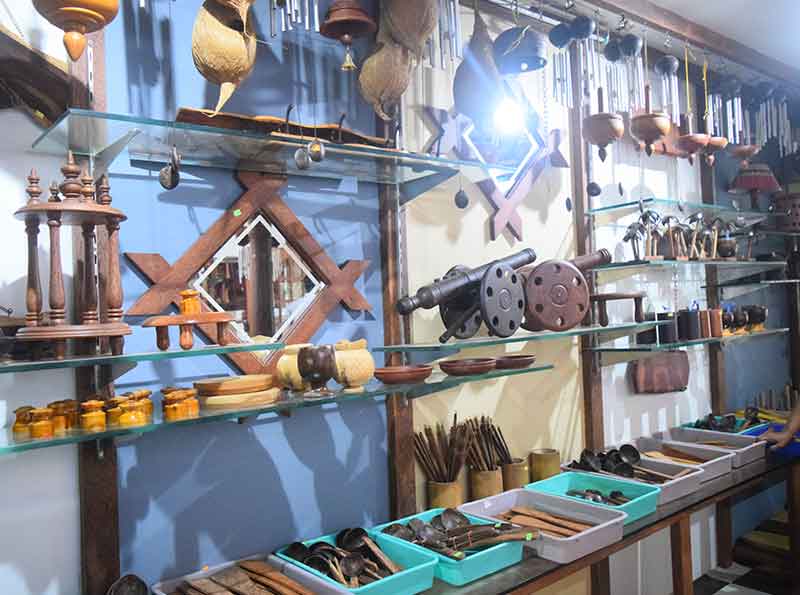 Coco craft presents an amazing array of innovative products crafted from seasoned coconut shell. This unique and exquisite range of products bears a cultural hallmark of Kerala as they depict the traditional Kerala motifs and are crafted with state of the art technology. Branded as green product, the artefacts from coco craft are solely made from renewable and eco-friendly raw materials. Unlike traditional artefacts made from various parts of coconut palm, coco craft introduces, for the first time in the world finely crafted gift articles and jewellery with envious technical and artistic quality.
Ramacham (Vetiver), renowned for its perfume, cooling and medicinal properties, is crafted into a number of products specifically designed to counter the tropical heat. Hand-held fans made of this material produce wafts of cool perfume if periodically sprinkled with water during their use; and mats made of Ramacham are used as blinds to block the harsh sunlight and keep the rooms cool. During the summer evenings, dried Ramacham is usually spread on the roofs of houses and sprinkled with water in order to cool the rooms below. Indigenous low cost coolers generate sprays of moist perfumed air with the aid of a motor and Ramacham infused water. Ramacham infused water is drunk due to the widely prevalent belief that is serves to lower body temperature.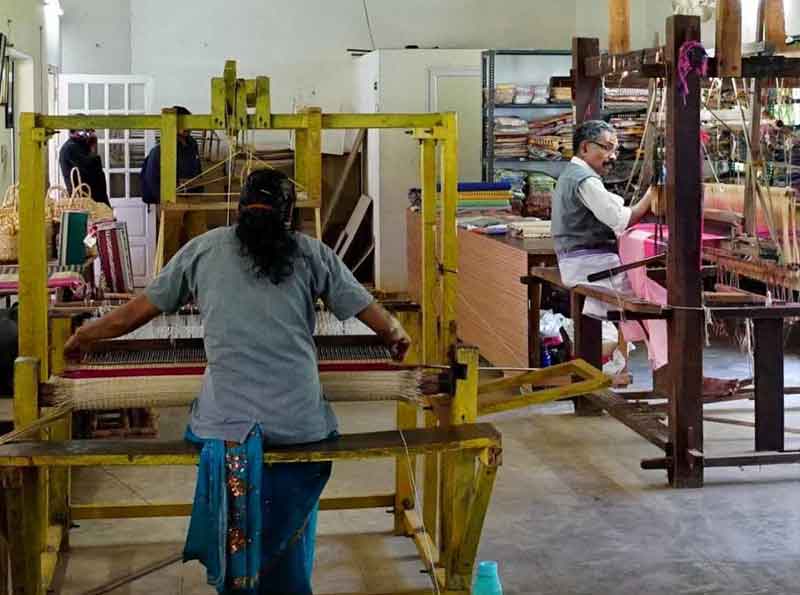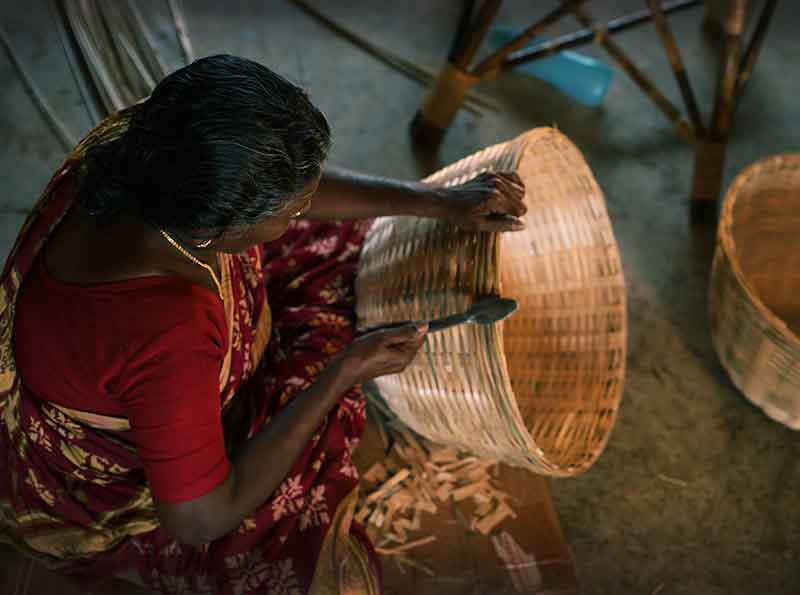 Screw pine, the plant that grows along the banks of the rivers and streams of the region, caters to one of the most important cottage industries in the region. The fleshy green plant is peeled into thin strips that are dried in the sun and then diagonally plaited to create mats or thazhapaya. The quality of the paya is determined by the size of the strips and the closeness of the weave achieved. The two-ply screw pine mat is used for sleeping on; it has a coarse base and a fine upper layer and is stitched at edge with a dyed strip of screw pine. The finest mats are made of very thin leaf splits, with about 22 splits per inch. The mettapaya, a recent variation of the thazhapaya, is coloured red and is made of two layers that are stitched together.
Of all the handicrafts of Kerala, the widely prevalent art of weaving reed baskets and mats is the simplest in form and most adaptable to usage. The reed weavers play a crucial role in agriculturalist villages by creating a wide range of items necessary for the occupational requirements of the villagers; these include mats for drying grain, winnowing fans for separating chaff, baskets for storing grain and for drying food grain, pepper corns and coconut kernels. The history of the bamboo reed industry of Kerala may be traced to the 14th century when the Arab traveller, Ibn Battuta, recorded the use of bamboo mats as sails on the Chinese ships at Kozhikode.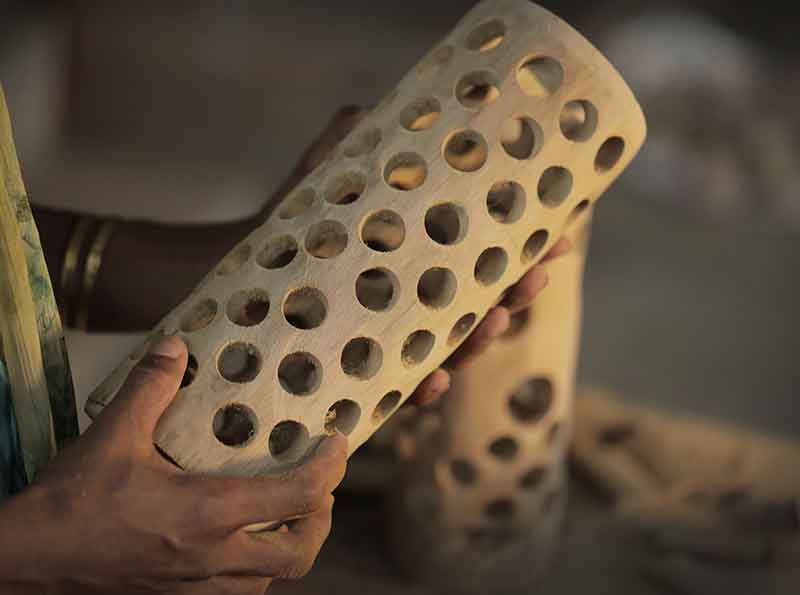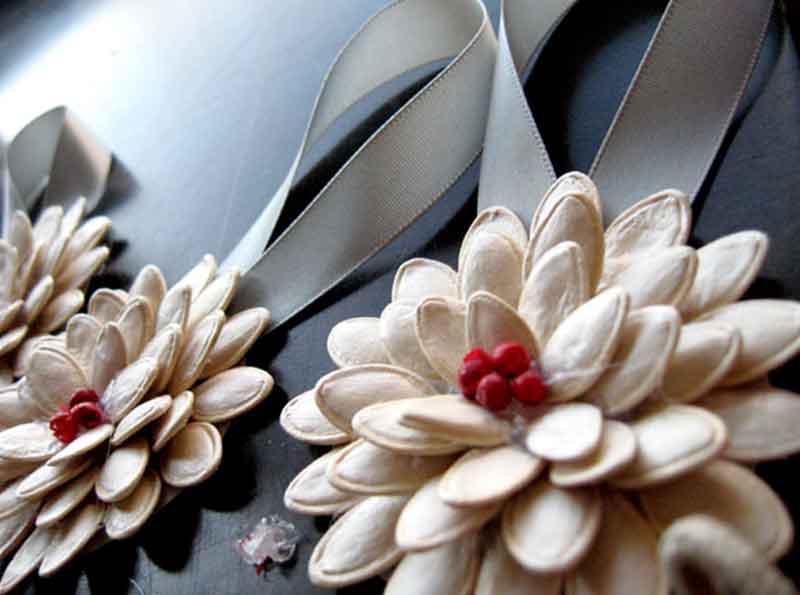 Seed ornaments exists to produce high quality and unique jewelry with a purpose. These ornaments provide retailers with a unique and beautifully handcrafted piece of jewelry unlike anything they've been able to offer customers before. When you working with Seed ornaments, an artist is given the chance to share his or her story and skill set in a tangible way.
Cane is a traditional part of our heritage material for Garden & Home furniture. To sit on, cane is much more comfortable, warmer and softer than metal, because it does not conduct body heat. Cane is a natural material for use in a natural setting obtained from natural surroundings. Cane has a warm soft colour and bends easily into elegant curves. Another property of cane furniture is its light weight, an advantage when you want to move furniture around. Cane is used to make chairs, table, benches, sofa sets, dining chairs, stools, hanging chairs, beds, coffee sets, side tables, dressing table, and many other decorating materials. Cane furniture has been the obvious choice for garden and conservatory living for decades. The manufacture of cane furniture, however, calls for a high degree of skill on the part of
the workers. Such skill is found to be traditional.